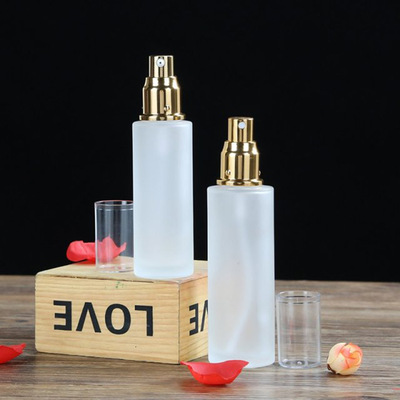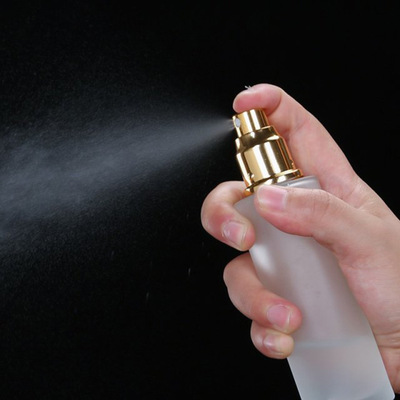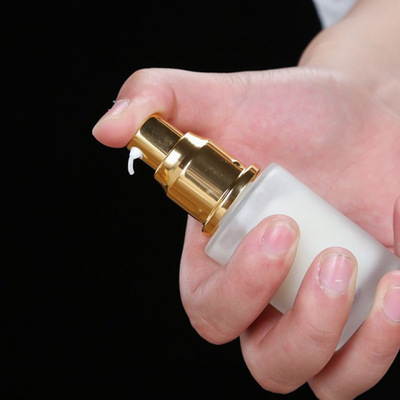 | | |
| --- | --- |
| Material and components | As per shows picture |
| Products Size | 5-100ml |
| Products Weight | 0.2kg |
| Decoration | Injection color, coating color, frost, metalized color |
| Color | Any color you want, as per Pantone No or sample |
| Logo | Silk print or hot stamping |
| MOQ | 10,000PCS |
| Lead of time | 35 days after deposit and approval samples |
| stock sample | free within 2days |
| customs sample | cost as per sample, 7~10days |
| courier fee for sample | Sample free ,shipping cost should be paid by buyer |
| Payment | 30%-50% deposit, the balance before shipment |
| Product's Packing | 1. Standard exported  corrugated carton and well belted |
| | 2. Shipping marks can be printed as per you want |
| | 3. parts protect by poly bag or special pallet. |
| Feature | Cosmetic dispensing glass empty bottle lead-free glass spray bottle customized pressing lotion essence bottle leak-proof original liquid bottle cosmetic glass bottle |
Glass bottle of cosmetic packaging material knowledge (cream bottle, essence, toner, essential oil bottle)
Glass bottles used in cosmetics are mainly divided into: skin care products (creams, lotions), perfumes, essential oils, nail polishes, which have a small capacity, and the
capacity of more than 200ml is rarely used in cosmetics. Glass bottles are divided into wide-mouthed bottles and narrow-mouthed bottles. For solid pastes, a wide-mouthed bottle
is generally used. It should be equipped with aluminum or plastic caps. The caps can be used for color spraying and other effects; emulsion or liquid creams The body generally
uses a narrow-mouth bottle, preferably with a pump head. If the cap is equipped with an inner plug, the liquid is equipped with a small hole with the same inner plug, and a
thicker emulsion is equipped with a large hole inner plug.
Glass bottle display of cosmetics processing packaging materials
The uneven thickness of the glass bottle can easily
lead to damage, or it is easy to be squeezed by the content under severe cold conditions. The reasonable capacity should be tested during filling. The transportation should be
carried by paper and separated individually. The product should be equipped with The color box, the inner support and the middle box can be more anti-vibration effect.
Commonly used bottle shapes for glass bottles are usually in stock, such as essential oil bottles, ordinary clear or frosted bottles. The production cycle of glass bottles is
long, it takes 20 days as fast as possible, and some supply periods take 45 days. Generally, the order quantity is 5,000 to 10,000. The smaller the bottle type, the larger the
quantity to be made. The cycle and the minimum order quantity will be both. Affected by peak and off-season. Mold opening cost: manual mold is about 2,500 yuan, automatic mold
is generally about 4,000 yuan, 1 out of 4 or 1 out of 8 costs 16,000 yuan-32,000 yuan, depending on the manufacturer's conditions. Essential oil bottles are usually made of
brown or colored and colored frosted, which can avoid light. The lid has a safety ring and can be equipped with an inner plug or a dropper. The perfume bottle is usually
equipped with an exquisite spray pump head or a plastic cap.
Combination:
1. Cream bottle series: glass bottle body + double-layer plastic outer cover (general capacity is 10g-50g)
2. Essence series: glass bottle body + plastic pump head or anodized aluminum pump head (the volume is relatively high in 20-100ml)
3. Toner series: glass bottle body + plastic inner plug + outer cover (above 100ml, it can also be equipped with a pump head)
4. Essential oil bottle series: glass bottle body + inner plug + large cap or plastic dripper + dropper + anodized aluminum cap